1 Flares
Made with Flare

More Info

'>
1 Flares
×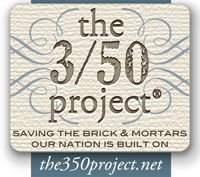 I recently came across a project called The 3/50 Project. I have read through the site and it's founders work and support what they are doing. It is a project geared towards people buying local instead of from the big chains. I am not someone who is against the big chain stores but I do love to shop local when I find a business worth while. However, I do not shop local just because they are local. I believe that it is a horrible idea to reward a business just based on location or your "beliefs". This encourages more and more local businesses to lazily put up shop and think the customers will just pour in.
That is not what this project is promoting.
What is The 3/50 Project?
The idea of the 3/50 Project is to find 3 local businesses that you can't live without and spend $50 a month there. Doing this of course puts a much higher percentage of the profit right back into the local community. Where as with a national chain, the money tends to leave the area and state in most cases.
What I love about this project is that it does not encourage people to shop somewhere just because they are local. In fact, the first part of their statement is "What three independently owned businesses would you miss if they disappeared?"
That is a big qualifier, which ones would they actually miss? It doesn't say to just pick 3 local businesses and spend money there. They are talking about local businesses that people really do find value in.
(If I would have one issue with this project, it's that I would rather the business make sure that they are on the customers mind every month, rather than the customer trying to remember the business each month.)
As a local business owner you need to make sure that your business is providing a value that your customers find so important, that they would truly miss you if you closed down. If a big chain is a competitor of yours, what are you doing to make sure that you offer more value to your customer?
Keeping up With the "Walmarts"
I hear too often of local businesses complaining about the "Walmarts", but when pressed to give me one reason why a customer should pay more to do business with them, the answers are few and meaningless. The fact that you have been there for 20+ years does not matter to a "What have you done for me lately?" market. You need to establish something unique and remarkable about your business that makes your customer not even think twice about where they do business.
Stop blaming the Olive Garden for why your restaurant is slow and start making better food with better service and better awareness than they do. You do not need a multimillion dollar marketing budget to keep up with a major chain. You need to focus on your customer and create a unique value and service for the price.
I can tell you that of the local business I currently frequent, a few of them offer amazing service and have us committed to shopping there even at a higher price than a chain. One of them, we do business with simply because they have a great product at a great price. However, if another business came along with an equal or better product, I would not have much hesitation about switching.
So do yourself a favor and make sure that you are one of three businesses that your customers can't live without. And if you are, teaming up with The 3/50 Project might also be a good idea. 🙂
1 Flares
Made with Flare

More Info

'>
1 Flares
×